Woods and Veneers
The following veneers are just a sample of those available. There are huge range of timber species and figure types which can be used in cabinet work.

---
Birdseye Maple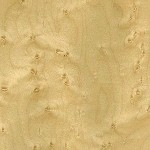 Bird's eye is a type of figure that has a distinctive pattern that resembles tiny, swirling eyes disrupting the smooth lines of grain.
It is not known what causes the phenomenon. Research has discounted the theories that it is caused by pecking birds deforming the wood grain or that an infecting fungus makes it twist.
---
Fiddleback Maple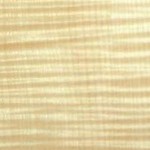 The growth of the wood fibres is distorted in an undulating pattern, producing wavy lines known as "flames". When polished the veneer has a three dimensional quality.
Prized for its beautiful appearance, it is used frequently in the manufacturing of musical instruments, such as guitars, violins and bassoons, and fine furniture.
---
Elm Burr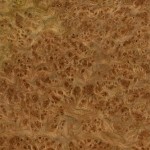 A burr (or burl as it is otherwise known) is a fast growing, abnormal growth, resulting from the tree undergoing some form of stress which may have been caused by an injury, virus or fungus. Commonly found in the form of a rounded outgrowth on a tree trunk or branch that is filled with small knots from dormant buds. Some burrs grow beneath the ground, attached to the roots as a type of malignancy that is generally not discovered until the tree dies or falls over. Elm burr has a rich pattern in deep red/brown colours.
---
American Black Walnut Burr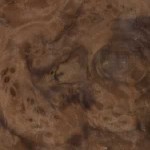 American black walnut has a warm deep brown colour. The burrs have a swirling, watery quality. Some burrs have a wide range of colour shades.
Walnut veneers can be combined with lighter veneers such as Maple to create a dramatic contrast.
---
Ash Burr
Ash has a pale creamy colour with a darker heartwood. The burrs have a range of shades from pink to cream.
---
Macassar Ebony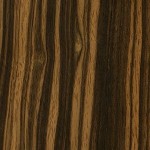 Macassar Ebony is an extremely beautiful timber with wide brown and black strips. It is very hard and can be polished to a high gloss finish.
The range of colours in this veneer allow it to be combined with other species such as walnut.
---
Oak Burr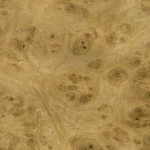 Oak is a very traditional timber widely used in joinery and cabinetwork. Oak burrs range from small clusters of 'pippy' knots over large areas to intense and highly figured large clusters in a small area.
Oak burrs can add a beautiful and dramatic feature to traditional cabinetwork.
---